How to become professional cuddler
Have you ever felt so lonely that you just needed a hug? Well, nowadays you can call a professional cuddler.
and, if you are here, you want to know how to become a professional cuddler. Just to get it out of the way – there is no funny business, just good old-fashioned human warmth.
These cuddlers are professionals, and their only job is to provide hugs and companionship.
So if you love to be with people and are comfortable hugging strangers for a long time, this post on how to become a professional cuddler will help you.
Note – This post may contain affiliate links and sponsored listings. Please read disclosure policy.
Want to make money quickly? Here are a few platforms to earn up to $25 – $50 in a few minutes!
What is a Professional Cuddler?
A professional cuddler is someone who provides platonic physical affection to clients in the form of cuddling, spooning, and no funny touching.
This service is usually provided by appointment only, and customers typically book one-hour sessions. While professional cuddlers come from all walks of life, they share one key trait: they love to cuddle!
It is a unique side hustle and a way to make extra money as well.
Let's talk about how to become a professional cuddler.
What Does A Professional Cuddler do?
A professional cuddler's job is to provide platonic companionship and physical affection to their clients.
The key is that there is no funny activity involved – professional cuddlers are there to provide a service that is purely platonic.
This can involve
cuddling
spooning
tickling
hair-stroking
hugging
watching movies
playing games
Talking
The idea is to provide a space for people to feel relaxed and comfortable.
How Much Do Professional Cuddlers Make?
Professional cuddlers typically charge between $60 and $80 per hour or more. This means that in a four-hour session in a month, a cuddler could make up to $320.
However, it is important to note that this is an unregulated industry. This means that there are no standard rates, and cuddlers can charge whatever they feel is appropriate.
Some cuddlers also offer discounts for longer sessions, as well as package deals that include multiple sessions.
I came across this article where I learned about Jasmine Siemon who is a professional cuddler based out of the Washington, D.C. for three years now. She charges $100 per hour-long session and $800 for overnight sessions, during which she devotes 12 hours to a client – six hours awake and six hours asleep.
Another professional cuddler, Hooton has clients queueing up to pay £75 (Rs 7,100) for an hour-long hug helping people to feel safe and calm.
Keeley Shoup, 33, is a full-time professional cuddler from Chicago, Illinois and charges $200 per hour to cuddle.
Do people really hire professional cuddlers and why?
Yes, people really do hire professional cuddlers! There are many reasons why someone might want to hire a professional cuddler.
Some people might be going through a tough time and just need someone to talk to or hold them. Others might have social anxiety and find it difficult to be close to people.
Besides the natural demand for cuddling, the pandemic of Covid-19 has made people realise the importance of touch and the dangers of prolonged isolation.
In a world where social media has become our main means of communication, we have forgotten the importance of human interaction. Covid-19 has forced us to come into contact with each other again, and we are starting to see the importance of human touch.
Since the pandemic, the demand for cuddling is on the rise.
According to what I understand, the major reasons of hiring professional cuddlers are:
Being single
Spouses/partners who either travel or the other half who is left in the home country
Break ups and divorces
Disability and old age
Who Can Become A Professional Cuddler?
Literally, anyone can become a professional cuddler! As long as you meet the requirements listed above, there is no reason why you couldn't be a professional cuddler.
That said, there are some people who are more likely to be successful in this career than others.
People who are:
Outgoing
Friendly
Empathetic
Patient
Calm
Good at communicating
Able to follow instructions
Are usually the most successful as professional cuddlers.
What Are The Requirements to Be a Professional Cuddler?
The first requirement to become a professional cuddler is having a passion for cuddling. If you don't enjoy being close to people and hugging them, then this probably isn't the right job for you.
Additionally, professional cuddlers need to be:
Comfortable with touch
Able to establish and maintain clear boundaries
Good at communicating
Able to remain professional at all times
Reliable and punctual
Able to follow instructions
Have a clean criminal record
Well-groomed
Besides that, there are no degree requirements for becoming a professional cuddler.
How do I become a certified cuddler?
In my research, I found two trainings and one membership that you can take
1. Cuddlist – Course at $149 and you can learn more about it in this video
The training program is about conducting safe, comfortable cuddling sessions for clients. The training is entirely online, and is a requirement to become a Cuddlist
2 Cuddlist – Membership
You will get access to the tools, resources, exposure, and continued support to book more cuddling sessions with our audience of cuddle clients.
Cuddlist does not take a percentage from your cuddling sessions you have with your clients.
3. Certified Cuddler
You can purchase the course for $79 and then a $30 ongoing fee or for a one-time cost of $1500.
It is a 6 week online course to become a certified professional cuddler. The course costs just $25. You can read more about it here and also check out a free webinar.
Is it legal to be a professional cuddler?
There is no regulation of the professional cuddling industry, which means that there are no specific laws governing it.
However, as long as you conduct your business in a professional and ethical manner, there is no reason why you couldn't be a certified cuddler.
How to become a professional cuddler?
There are two ways to become a professional cuddler:
Work with Cuddle Comfort
Start your own business website for professional cuddling services
Work with cuddle-companies: How to become a professional cuddler for free
1. Cuddle Comfort
If you want to become a professional cuddler for free, Cuddle Comfort is a great choice.
What is cuddle-comfort?
Cuddle Comfort started in 2011 with the goal of bringing physical affection to more people without the romantic prerequisites and was founded by Mark, the site administrator. Gary is the primary developer. Reurbo became a moderator in 2018, as did SoulcuddlerZ in 2019, and Sideon in November 2020.
Cuddle Comfort is a community of people that love to cuddle. They help you create friendships based on cuddling that are pressure free and with no expectation of something more.
The site apparently reached 100000 members in February 2018. About 21% of the members are women, and 4% are professionals. Around 97% of professionals are female.
They claim to have thousands of members in India and around the world who are just looking to cuddle with someone like you.
Is cuddle comfort really free?
Yes, the platform is completely free.
What do you earn with cuddle comfort?
You are free to choose your own rates. The standard rate is $80 per hour. You can either charge lower or higher than the average.
Normally clients pay in cash at the start of the session. Some professionals may ask for a deposit in advance (particularly if they have experienced many cancellations in the past). Tipping is not expected
Best thing about Cuddle Comfort
Once you sign up, they promote your services for free. You can also get paid for cuddling, which is a great way to make some extra money.
2. Cuddlist
What is Cuddlist?
Cuddlist was launched in 2015, a collaboration between Adam Lippin and Madelon Guinazzo – experts in the field of communication and consent.
How to join cuddlist?
To be a part of Cuddlist, you will need to first take the training

Complete the minimum requirements to qualify for membership.

Join their community for $39.99/month.
Besides these two, a few other cuddle companies are:
There are also smaller, regional online businesses like
Alt Touch in Boise
Snuggle Salon
Harmony Cuddles
Cuddle Therapy
Tips to make best of your cuddling account:
Optimise and give information in your About:
Your cuddler profile is the best way to show off who you are as a cuddler. So make sure to take some time and fill it out as accurately and detailed as possible!
Use your space to tell about yourself and to convice the potential clients to hire you as a professional cuddler.
Add a profile picture:
A clear and attractive profile picture will definitely help you stand out from the crowd. Choose a photo that shows your face and smile in a positive light. people want to see who they're going to cuddle with!
Make sure your photos are appropriate, as Cuddle Comfort is a PG-rated site.
Be active and responsive:
The more active you are on the site, the more likely you are to get messages from potential clients. So make sure to log in regularly and respond to messages in a timely manner.
If you want to attract clients, it's important to be friendly and professional at all times.
Always be loving and warm but professional:
Remember that you are providing a service and that it's important to remain professional at all times.
But that doesn't mean you can't be loving and warm! Be sure to cuddle with your clients in a way that makes them feel comfortable and safe.
Start your own business website for professional cuddling services
Step 1: Buy Hosting and Domain
The first step is to buy hosting and a domain name for your website.
I recommend using Bluehost because they offer a free domain name and their prices are very affordable (starts at $2.95/month).
Step 2: Install WordPress
Once you have purchased your hosting and domain, the next step is to install WordPress. WordPress is a free and open-source content management system (CMS) that you can use to create a website or blog.
Bluehost makes it very easy to install WordPress. You can follow their instructions here.
Step 3: Choose a WordPress Theme
Now that you have installed WordPress, the next step is to choose a WordPress theme for your website. There are thousands of free and paid WordPress themes available.
I recommend choosing a simple and clean theme like Astra. It's a fast, lightweight, and customizable theme that you can use for any type of website.
Step 4: Create the most important pages on your website
Once you have installed a WordPress theme, the next step is to create the most important pages on your website. These include an "About" page, a "Services" page, and a "Contact" page.
You can use the WordPress editor to create these pages.
About and contact – Your about page is one of the most important pages on your website. It's where you tell your visitors who you are, what you do, and why they should hire you.
Services offered: On your services page, you will want to list the different services that you offer. Be sure to include pricing information and any other relevant details.
Contact: The contact page is where you include your contact information so that your clients can reach you. Be sure to include a form so that people can send you messages.
Privacy Policies: You will also need to create a privacy policy and terms of use page. I recommend using a service like TermsFeed to generate these pages.
Disclosures: If you are going to be paid for cuddling services, you will need to disclose this information on your website.
Step 5: Highlight and promote your services across social media platforms
The final step is to highlight and promote your services across social media platforms. This will help you reach a wider audience and generate more leads.
When promoting your services, be sure to include attractive photos and compelling copy. You can also use hashtags to reach people who are interested in cuddling services.
Step 6: Learn SEO, start blogging and implement to get qualified traffic that converts to your website
SEO is the practice of optimizing your website to rank higher in Google search results. This can help you reach more people who are looking for cuddling services.
There are many different SEO strategies that you can use, but some of the most effective include keyword research, link building, and creating compelling content.
If you want to learn more about SEO, I recommend taking a course like this one from Moz.
Another great way to reach more people is to start blogging. This will help you attract new visitors to your website and give you an opportunity to show off your expertise.
When creating blog posts, be sure to include relevant keywords and link back to your services page. You can also promote your blog posts on social media to reach a wider audience.
Stupid Simple SEO (FREE COURSE) – It is the best investment I have made in the blog land. Take Mike's course, apply it on your blog and you can see the results pouring it. Read detailed review here.

FAQ: How to become a professional cuddler
How much money do professional cuddlers make?
The average professional cuddler makes $80 per hour. However, rates can vary depending on your location, experience, and the services you offer.
How do you become a professional cuddler?
There is no one-size-fits-all answer to this question. However, some steps that you may want to take include creating a website, promoting your services across social media, and taking courses on SEO and cuddling.
If you are new, I recommend you start with Cuddle Comfort or Cuddlist.
Is a professional cuddler a real job?
Yes, professional cuddling is a real job. It's becoming increasingly popular as people seek out non-sexual touch and intimacy.
How old do you gotta be to be a professional cuddler?
There is no age limit for becoming a professional cuddler. However, most professional cuddlers are over 18 years old.
What do professional cuddlers wear?
Most professional cuddlers wear comfortable, loose-fitting clothing. However, some cuddlers may choose to wear lingerie or other sexy clothing.
Do professional cuddlers have sex with their clients?
No, professional cuddlers do not have sex with their clients. Cuddling is a non-sexual service that is designed to provide comfort and intimacy.
What if I get an erection while cuddling?
If you get an erection while cuddling, it is important to remain professional and respectful. You should not act on your erection or attempt to have s e x with the client.
Conclusion: How to become a professional cuddler
Professional cuddlers are in high demand, and there are a number of ways to get started in the business.
Cuddle Comfort and Cuddlist are two websites that connect cuddlers with clients. To become a professional cuddler, you'll need to be comfortable with physical intimacy and have a good bedside manner.
When meeting with clients, it's important to establish boundaries and ensure that both parties are comfortable with the level of affection.
Once you've built up a clientele, you can start charging $80-100 per hour for your services. So if you're looking for a unique side hustle that involves plenty of hugs, cuddling might be the perfect gig for you.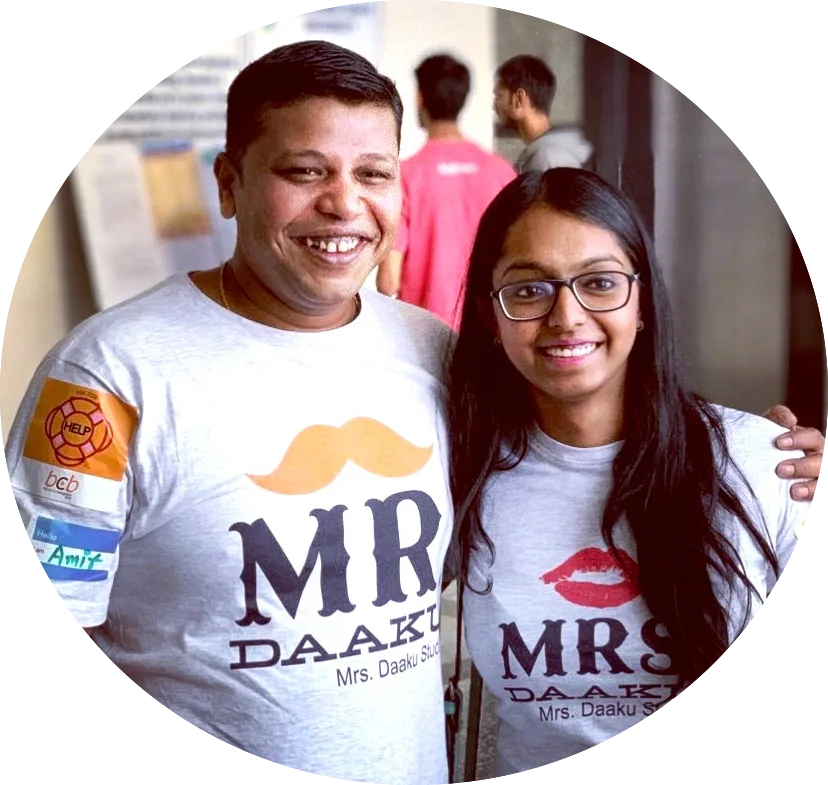 Hi buttercup, thank you for stopping by. We're Chhavi & Amit.
We're a couple who quit our high paying jobs as a lawyer and an engineer to start hustling online. Now we're full time bloggers and YouTubers. We have been featured on Wealth of Geeks, Hello Sensible, Savoteur, Play Louder, A Dime Saved, Forbes, Business Insider, Readers Digest, CEO Blog Nation, Starter Story, Yahoo! Finance, MSN, BankRate and so much more.

MSN Bylined Writer
How to become professional cuddler