Literably job review – Scam or legit
Are you looking for ways to make money online from home as a transcriptionist?
There is a good chance that you would have come across an app called Literably. In this post, we will do a detailed Literably review.
Literably is a reading assessment app that helps teachers to assess the reading strength of their students. The company regularly hires home-based transcribers.
The site claims that you can earn $10 and even $20 per hour as a transcriber.
But is Literably legit, or is it a scam? I'm sure this question has crossed your mind.
When it comes to making money online, there are many false promises and scams out there, and it is natural to be wary.
In this Literably review, we will explain what is Literably and how does it work. You will also learn what qualifications you need to get hired here and the pros and cons of working with Literably.
Note – This post may contain affiliate links. Please read disclosure policy
Want to make money quickly? Here are a few platforms to earn up to $25 – $50 in a few minutes!
PineCone Research: Earn $3 – $5 per each survey guaranteed .Sign up now
What is Literably?
Basically, Literably is an online platform for students who want to improve their reading skills. This online tool assesses a student's ability to read and comprehend.
According to the website, Literably provides assessment for K-8 students, aiming to identify their reading levels, diagnosing reading gaps, and tracking the student's progress in reading.
Literably was founded by Tyler Borek and Habib Moody in 2013.
To use this tool, a student needs to download it onto an iPad, mobile phone, or laptop to record their voice when reading.
Literably creates a report within 24 hours, detailing the student's performance based on accuracy, fluency, and comprehension.
This process helps the teachers to determine their reading level and find out if there are any mispronounced words.
Interested in becoming a transcriptionist and make 1000 a month online? Grab this FREE training on General Transcription NOW
How does Literably work?
The students read into their laptops, smartphones, or iPads while Literably records what they read.
Once the student completes the recording session, Literably sends the file to a Literably scorer (or a transcriber).
The Literably scorer listens to the recording, transcribes what he/she hears, and points out any mispronounced words or mistakes.
After the transcribing work is complete, the word document is sent to Literably, which Literably then sends to the teachers.
Teachers find this app useful as they are able to know the fluency,
comprehension, and accuracy of their students.
Is Literably a Scam?
---
First off, we know the people behind Literably are totally legit with good reputation.
So, I am sure, Literably is not a scam. But, lets do a bit more digging than just relying on the reputation of two people.
First, Literably social media presence dates back to years. I checked out the LinkedIn profile which has over 1000+ followers which is a decent following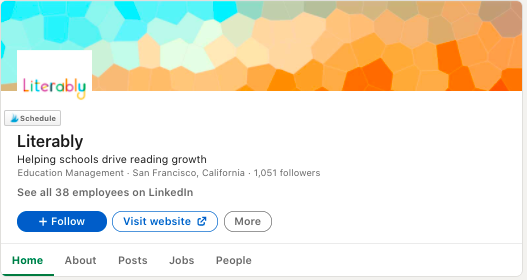 More importantly though, is LinkedIn provides a link to 38 current or past Literably employees.
They also have a Twitter account with 1,000+ followers.
Source: Twitter
Of course, Literably is also on Facebook. They currently have 120 followers.
Source: Facebook
So – they have legit social media presence even though it is worth to point out that there isnt much engagement in general.
Besides this, you can lookup the founders on Linkedin as well as Literably website and find legitimate contact information that includes phone numbers and a physical address.
How can you become a Literably scorer?
It's free to sign up for Literably if you're going to work for them as a transcriber and scorer BUT if you're a teacher or representing a school, you will need to pay for a subscription
These are the general requirements to apply for work as a Literably scorer/transcriber –
You must be at least 18 years old.

You should neither live in nor perform services for Literably in California, Connecticut, Massachusetts, Montana, Nebraska, or New Jersey.

You should have a fast computer, stable internet, and high-quality headphones.

You also need a PayPal account to get paid.

While you do not need any prior experience to become a transcriber with Literably, you must meet all the requirements and pass the sample test.

If you are a new transcriber, you also need to go through their training.

To apply to become a Literably transcriber, follow these steps –

Visit the Literably website to sign up.
Provide your Username, password, and email address. Literably pays through PayPal, so you must use your PayPal email address here.

Watch the training videos.

Finish six test recordings in 30 minutes or less.

This involves listening to audio files of students reading and comparing them with written text to identify errors like omissions, additions, poor pronunciations, and grammar.

It may take anywhere from 10 to 12 weeks to find out if you passed the test. You can also retake the tests after one year if you don't pass the first time.

If you pass the sample test and get accepted, you can start working for Literably as a transciber or a scorer

Literably transcribers/scorers listen to audio files being read by students and compare the wordings on each to the actual written text.

After transcribing what the audio files say, you will then score the students' performances based on their accuracy and comprehension.
What kind of training tools and support is provided?
There are six different training resources on Literably. These training resources take about an hour to complete.
You will also be taught to score an audio recording properly.
After training is complete, you will be tested on whether you can transcribe a file correctly. If you are able to transcribe the audio file accurately, you will be accepted.
However, if you have a lot of inaccuracies, you may not be selected. So make sure you take your training and test seriously.
Interested in becoming a transcriptionist and make 1000 a month online? Grab this FREE training on General Transcription NOW
What do you actually do as a Literably scorer?
To fully understand your job as a Literably transcriber, you first need to understand the service that Literably provides.
Literably's client base comprises of schools and teachers. They pay for the use of Literably's classroom tools.
These tools help the teacher monitor the progress of their students in reading. The Literably software does the heavy lifting as it does the administration, tracking, and scoring part of the reading assessment.
All that the teacher has to do is download Literably on their computer and make the students read aloud to Literably.
As a Literably Scorer/transcriber, you have to listen to the students' recoding and type out what the students read aloud, including the mistakes they make.
Your job also involves being able to point out the mistakes like phonetic errors, mispronounced words additions, and omissions.
Literably will give you the full text of what the students are reading. You will have to type any words written in the text that the student did not pronounce.
As the job title suggests, you also need to provide a score for the students to determine their reading capability and send everything to Literably.
How much money can you earn as a Literably scorer?
Literably pay starts from $0.50 per audio minute that you transcribe. This does not mean you will get paid this amount for every minute that you work, but rather for every minute of the audio that you transcribe.
One minute of audio can take you around three to five minutes to transcribe.
You can make around $30 per audio hour. At the rate of three minutes per one minute of an audio file, this translates to a payment of $10 per hour of work. Your pay can improve as your speed improves.
After you submit your work, it will be assessed for its quality, and you will be paid accordingly. This work may be a little difficult if you are a beginner. You will need to improve your listening skills.
Other than the student's voice, there may be other noises in the audio that may distract you.
You will receive the payment every week via PayPal.
What we like about Literably
Flexible schedule

You can freely choose your working hours on Literably. Literably does not impose a strict work schedule.

Available to US and non-US residents

Some platforms offer work from home opportunities only to US residents. Literably provides work from home opportunity to non-US residents as well.

Pays via PayPal

All payments on Literably are made via PayPal. PayPal is a trusted platform, and it is also easy to use.

Weekly pay schedule

You do not have to wait for weeks to get your payment. Literably pays you every week.

Open to beginners

You do not need any prior experience to work as a Literably scorer.

Work is straightforward

The job of Literably scorer is easy and straightforward. You will also get training to improve your skills.
What we don't like about Literably
Approval process takes time

If you apply for a job here, it may take weeks before you get a reply from Literably.

Work is leaner during summers

You may not get a steady flow of work all through the year. Work is leaner during holidays or summer when students are on a break. So, you can't make it your only source of income.

Not all voice recordings are from native English speakers

Since non-native English speakers are also using Literably's services, it may be difficult for transcribers to understand their accent. These may take you longer to transcribe and thus may affect your pay.
Interested in becoming a transcriptionist and make 1000 a month online? Grab this FREE training on General Transcription NOW
Is Literably a scam, or is it legit?
There are not many reviews on the internet about Literably jobs.
The lack of activity on social media about Literably is not a red flag; it merely means that the number of jobs available on Literably may be limited.
A reviewer on Reddit found transcribing for Literably challenging.

According to the reviewer, in the audio file that he was given to transcribe, the child spoke in a whisper, and there was too much background noise.
Overall, the reviewer found the job more challenging than regular transcription jobs.

According to a Literably reviewer on Glassdoor, 'working with Literably is fun and flexible though they do demand precision.' The person felt the training scoring is not always consistent, and more training is required.
The reviewer was appreciative of the fact that payment always arrived on time. These reviews show that Literably is a legit app that hires transcribers, trains them, and pays them on time.
The teachers who use Literably find that it saves them a lot of time. According to teachers' review on common sense education, Literably saves them dozens of hours in progress monitoring assessments.
So, we can safely say that Literably is not a scam
Final thoughts on Literably job review
If you want to make money from home and enjoy working with children, Literably is a good option for you.
Transcription is a job that requires patience and precision. It can take you some time to be good at it and make a decent sum of money
If you are a beginner and are looking to explore transcription as a work from home opportunity, Literably is a good option.
They are open to taking beginners and also provide training. You may be a bit slow in the beginning and thus may earn lesser money.
However, as you gain experience, your speed will improve, and you can make much more.
Interested in becoming a transcriptionist and make 1000 a month online? Grab this FREE training on General Transcription NOW
LITERABLY JOB REVIEW – Scam or legit?