If you've been creating a million blog posts but you're not getting any social shares and your traffic is less than a drivel leaving you scatterbrained and ready to say QUIT, you gonna wanna read this…
Do you ever wonder why some of the new bloggers publish amazing content every week and drive thousands of pageviews while you can't even seem to finish one single post without pulling your hair?
Let's be honest with each other, my overwhelmed-but-amazing blogger. If I took a peek at your computer real quick would I find
… multiple links of six figure income reports of popular bloggers in your browsing history that you were reading late in the night and wondering if you can ever make even a tenth of that.
Spend hours and hours looking at the website of your competitor that just seemed to skyrocketed out of nowhere and you feel like you're missing something
A neglected blog you promised to post on every week but between all the pinning, SEO, email list, networking in Facebook groups and watching trainings in the fancy course you just bought, you just couldn't focus on anything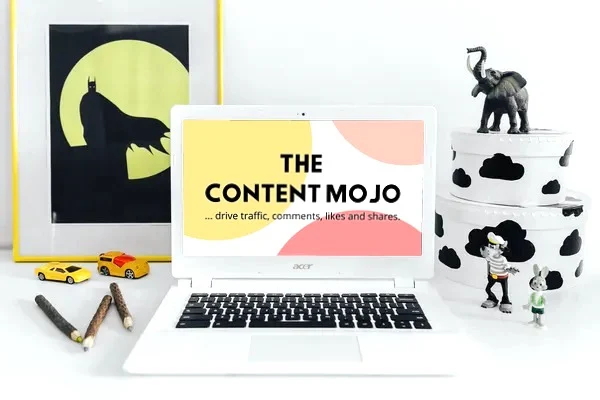 You've taken free courses, read a million blog posts, bought ebooks, but nothing helped you out the way it should've?
It's NOT your fault, Buttercup.
… The only reason you're in this situation is because blogging has a steep learning curve and you don't have a simple system for finding keywords, writing and publishing epic content right from the start
You see those things may teach you a lot but miss out the VERY effing BASIC of blogging… the one thing that can cut down overwhelm, keep you focused and on track so you can finally see the growth you deserve.
INTRODUCING – THE CONTENT MOJO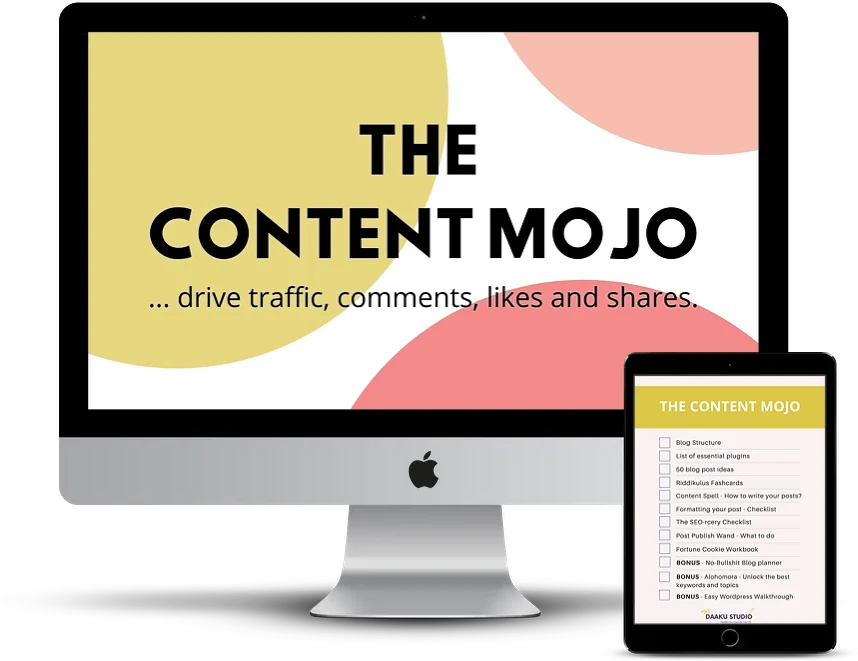 10+ checklists, guides, workbook and video trainings to help you run a profitable blog that others will be "jealous of" even if you've no idea what you are doing, you still don't have a monetisation strategy and you don't know what SERP is.

GIVE IT TO ME, NOW! I NEED IT.

The Content Mojo covers everything from blog structure, how to create an effective content strategy, how to write your posts, basic search engine optimisation for blog posts, and much much more.
So.. you never quit blogging and create content that readers (and..Google bots) LOVE.
After investing in The Content Mojo, you'll
Make progress with your blog even if you're clueless about making money with your blog
Attract search engine traffic even with your very first post
Write content that screams "I am a professional", you better listen to me and take action
Easily convert your readers into fans who keep coming back to you
Finally be able to make a regular paycheck with your blog and not worry about if you can cover the cost of health insurance or buy your favorite items at Whole Foods
Thanks to the…
Blog structure that sends the right indication to search engines
List of essential plugins so you don't slow down your site with reckless items
50 blog post ideas and Riddikulus flashcards so you never run out of amazing content ideas
Content Spell that teaches you how to write content that attracts readers, traffic and drive social shares
Formatting checklist so your content looks professional
The SEO-rcery checklist so Google knows what you're all about
Post Publish Wand that tells you what to do after you hit publish
Fortune Cookie Workbook to rank on search engine results faster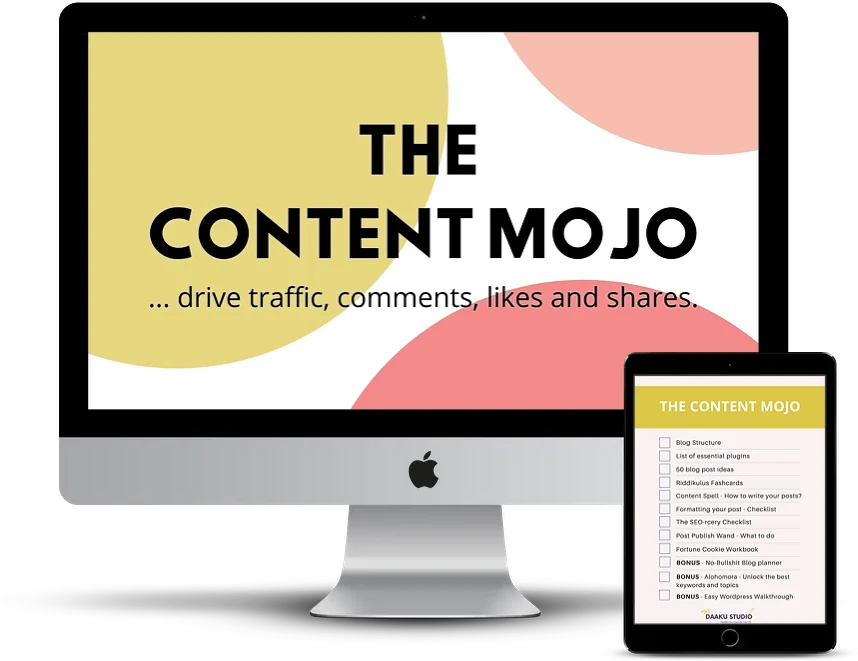 And, you can get access to all these goodness for just $79


GIVE IT TO ME, NOW! I NEED IT.

Oh wait, there are bonuses too.
Bonus 1: Easy WordPress Walkthrough
A video that takes you through the WordPress dashboard and shows how to use the Gutenberg editor properly.
Bonus 2: Alohomora – Unlock the best keywords and topics
4 step-by-step videos where I share 4 methods to find what your target audience wants to read and what Google will rank you for. ​
Just like how Hermonie uses Alogomora to open the doors to find the book they want. Anyone, Harry Potter fan?
Imagine starting like a pro-blogger who knows what they're doing, attracts organic as well as social traffic along with helluva compliments on content… You deserve it!
Who am I and Why you should listen to me?
That's me, Buttercup…
I started my first blog in 2016 and I QUIT within a few months of blogging… I was overwhelmed with everything I thought I had to do (AT ONCE).
…. Facebook, Pinterest, SEO, Email Lists, Blah, Bwahaha, Bohooo… whatever comes to your mind.
I stared at other people's blog, read income reports EVERY DAY and felt bad, annoyed… I even started to beat myself up and I was convinced that I am too stupid for this.
Fast forward… and I started again in July 2018 and within 9 month, I was making a full-time income from my blog.
…. I joined a premium ad network, I was driving 50k+ pageviews and making $3-5k a month.
I want the same for you minus the quitting and proclaiming stupidity. Are you in?
Using everything in The Content Mojo, I was able to drive some crazy results. Of course, I didn't start with it but, oh boi, if I did I would make soooo much money and drive 100k+ pageviews sooo much earlier.
Some proofs for you down below, my go-getter. I know you've doubts.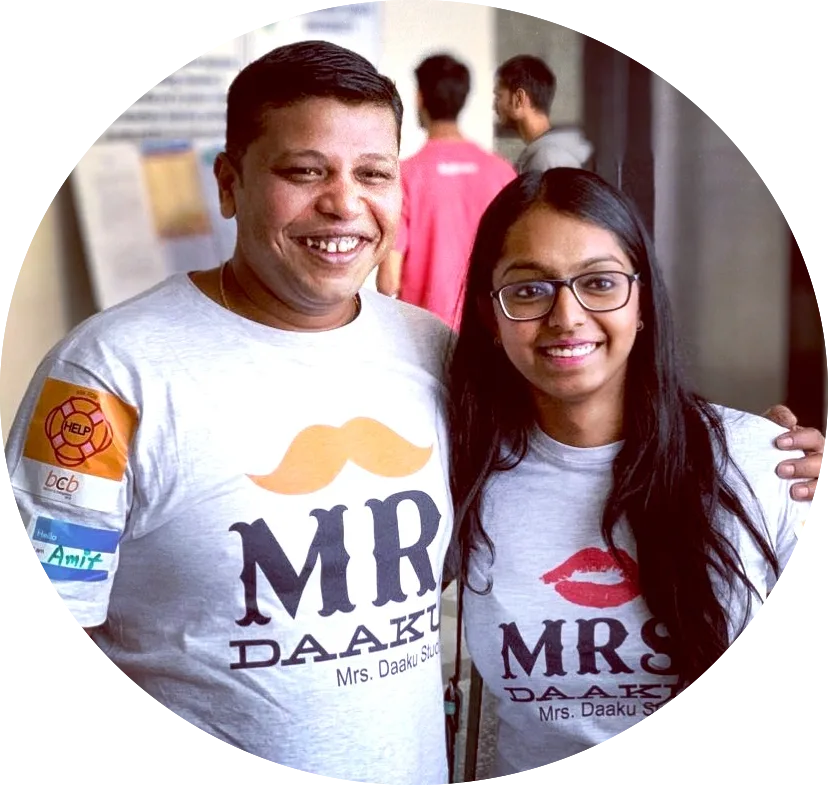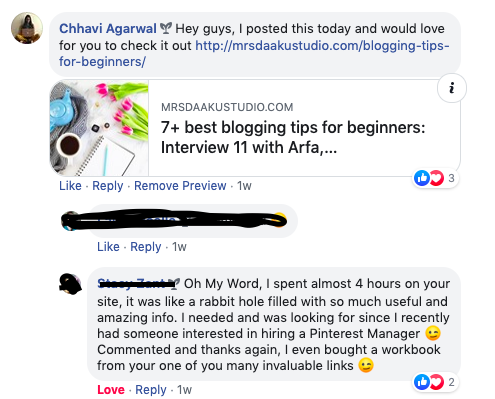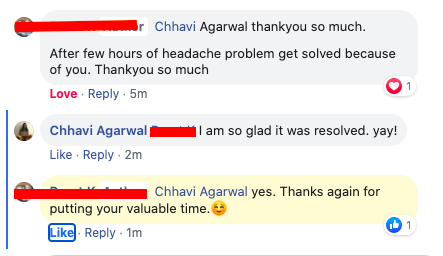 What others have to say about me…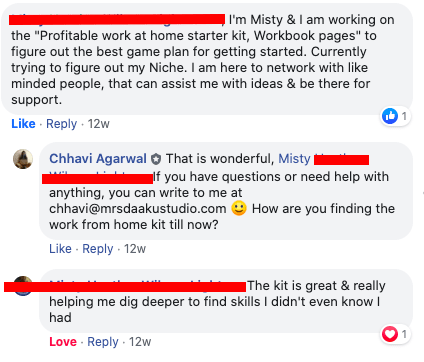 GIVE IT TO ME, NOW! I NEED IT.

Questions smart people ask before getting access…
Will this work for my blogging niche?
Aha! I appreciate this question, Buttercup. The Content Mojo is NOT niche specific.
If you're a blogger, you'll HAVE TO learn these tricks and hacks to "make it"
I am a new blogger. Is this for me?
Of course, this is exactly for you. The Content Mojo was designed to help new bloggers make progress and cut down the overwhelm you face in the blogging world.
I am an intermediate blogger, will this help me?
Ummm.. depends. The Content Mojo has lot of advanced tips and tricks but if you're super familiar with SEO and keyword research, it may not help.
By when can I start seeing the results?
It really differs from blog to blog. But on an average, you should start seeing results in 6 months. It may be faster for social traffic than organic traffic.
But, what if The Content Mojo stinks?
It won't. I stand 100% behind this bundle and I've seen (and personally experienced) success with it.
That said, there is no refunds for this product. This bad boy, my future blogging star, is a use it or don't buy it type of product
This bundle is housed on a self hosted platform – which means after you smack up the buy button, you'll receive an automated email with a download link. This can sometimes take a few minutes, so be patient.
… Look I get it, you've been on sales pages like this before that promised you moon and stars BUT never deliver..
which is why you deserve The Content Mojo.
…Never again will you worry about how to create content and be the rockstar who attracts tonnes of traffic with the first blog post.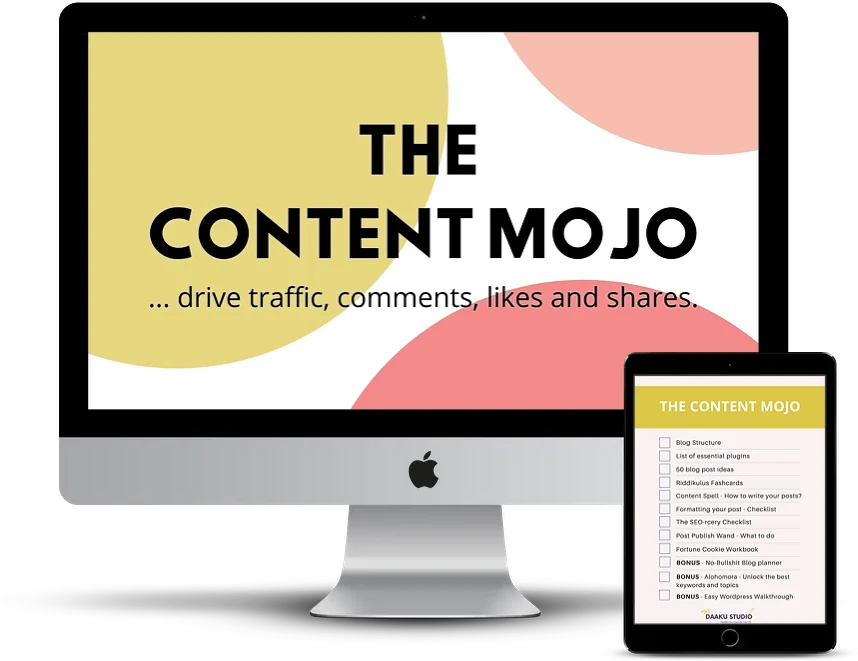 So go ahead and slap that golden button below and let The Content Mojo do the job for you.

GIVE IT TO ME, NOW! I NEED IT.

If you're in the European Union (EU) please click here to make a purchase. For Indian buyers, use this link.