Want to start Freelance writing business in India? Here is how!
If you are here, you are probably struggling to start online freelance writing in India or anywhere else for that matter!) or wondering if freelance content writing jobs in India pay well
Tell me if any of this sounds like you
You want to be a writer but think that content writing in India is not lucrative because online content writing jobs in India pay peanuts.
You are tired of low paying freelance writing jobs in India that pay you INR 0.20 – 0.30 paise per word (if they pay you at all, that is!). Many clients think this is the average freelance writing rates per word in India.
You have started to feel that freelance writing in India is all about low payments and bad clients
You are sick of your day job and want to start a home based business to be able to spend more time with yourself, kids or family 

—- FREEBIE —-
Note: If you are looking for other work at home options as well, do check out these guides on the best online jobs today. You can also check out guides on how to start working from home. 
Download this guide and grab a 5 step plan to launching a profitable online business from home.

You cannot see yourself going out to work because of an obligation.
You just want to start working from home because it is flexible
That said, you have NO idea where and how to start freelance writing and look for these "high paying clients" who are sweet to work with.
If you want to learn the secrets of successful freelance writing, sign up for the free course below. You can definitely write and earn in India.
In my first month of freelance writing in India, I landed a client who paid me Rs. 15000 for a SINGLE post.
It is possible. It is NO rocket science BUT it is hard work.
Let me tell you one secret, freelance writing in India wouldn't have been possible without my professional website. That is one and the only investments you have to make when you are starting out as a newbie freelance writer.
If you have already dived into freelance writing, you NEED a writer's website.
Think of it this way. You are working from home and have minimum human contact. How the hell would you land clients?
This post may contain affiliate links to products I trust. This means if you make a purchase using the links I may receive a small commission at no extra cost to you. Thank you for the support!
Websites and blogs help you create a strong online presence. Not only do they make you look super professional, it also makes you more searchable.
Note:

You can start one of the mom blogs that makes money with as little as $3.95 a month or Rs. 276 a month (if you are in India, you can also opt for Hostgator for Rs. 350 a month) or go with the free options. However, I do not recommend using free options. You can read about other options here and here.

You can use this step by step tutorial to get your WordPress blog up and running. If you have difficulty in understanding the basics (like domain name, wordpress.org or .com, hosting etc), you can read this article on website basics.

If you do not want to invest in a website designer (which I did not, and created this website on my own), buy a theme builder like Elementor. It is super easy, is almost drag and drop and did I mention – it has a FREE version too!
You still don't have a service website? You can use my guide to kickstart your WordPress blog in under 15 minutes. 
Let's look at a few things I did that made freelance writing in India a profitable career.
#1 Adopt a business mindset if you want freelance writing to work in India
I struggled, but I did adopt "I am not an employee" attitude
Confession time: Being brought up in a middle-class family to working as a legal counsel, I was moulded in an "employee" mindset. I have let clients dominate conversations, negotiate on pricing and listened to them speak without giving my views.
Oh, they are in business and they are RIGHT!
Sounds familiar?
When I started out, I didn't see "freelance writing" as "business" and that was a HUGE mistake.
Once I dumped the "employee" mindset, I was able to grow my business rather quickly!  I set up my own professional website (which did wonders for me!) processes to work, terms and conditions, and a pricing model which showed I am not just any other desperate freelance writer but a proud business owner.
As Solange said, you must first get comfortable with being uncomfortable and kicking the fear out the door.
Still, confused?
It's a transformation from "I am working for you" to "I work with you"; "I cannot take risks" to "calculated risks is a part of the journey" and "I want to avoid failures" to "failures fuel me and teach me"
Come on –
You are adding value to the clients brand. Helping them gain authority and propel their online presence.
You are offering VALUE ADDITION.
So, get up every morning and tell yourself – I HAVE A FREELANCE WRITING BUSINESS. Promise?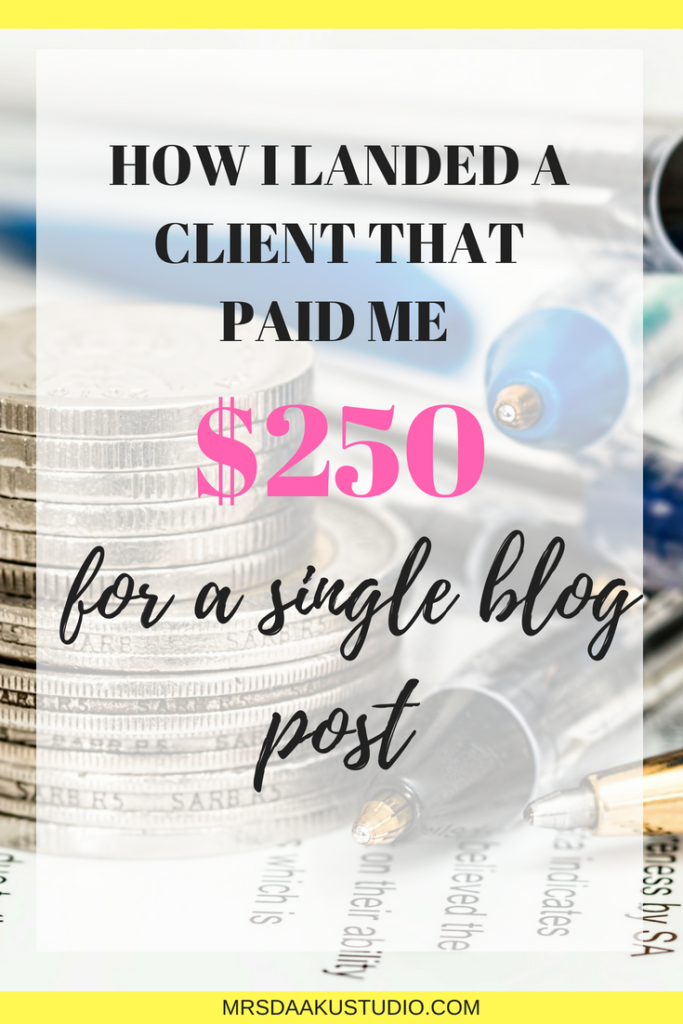 #2  Picked a lucrative and profitable freelance writing niche
This is a never-ending debate. Freelance writing niche or no-niche?
I take on work from other industries (if it interests me) but I market myself as a tech/marketing writer because that's what I love to write about.
Your niche need not ALWAYS be what you have read in college. Take some time to jot down your experience and interest.
For example, if you are a mother of two kids, you have parenting experience. Is that something which interests you? OR you are a stay at home wife but you love reading lifestyle magazines or you are very crafty? Well, there is your niche.
It doesn't matter WHAT you did in college unless you want to take up academic writing.
Once you jot down all your interests and experience, rank them on the basis of profitability (for example, medical writing is extremely high paying).  For that, research online on the client base you can have in that niche.
It is not necessary to have a niche, but it has its own set of advantages in the beginning.
You are clear on who to target. This makes it easier to find the exact freelance writing job that matches your skill.

Your research time is reduced CONSIDERABLY because you don't have to learn basics.

You have RELEVANT samples.
You can get my FREE GUIDE to selecting a profitable niche by clicking on the image below.
[bctt tweet="Grab your guide to profitable writing niche and skyrocket your freelancing career" username="mrs_daaku"]
When was the last time you bought something without spending time (buying, researching or exploring options) online?
We (even) buy groceries online nowadays!
You HAVE to take advantage of this. Create a website and make yourself "searchable" and "buyable" at the same time.
Ensure that
You have a website, but don't sell your soul over it. Get a basic website which states what you can do for your clients and what have you done (if any). Do I sense worry? You aren't comfortable with tech stuff? This guide can help you launch your WordPress blog with Bluehost.

All the content on your website needs to be

RELEVANT

. Keep it simple and skimmable. Remember, just as the buyer persona is important for content marketing, it is important for you too.

Your contact details are right there. There shouldn't be any extra effort to reach you.
Get it? I know I wouldn't have been able to land this client without a blog or website! Start here. 
#4 Created a professional freelance writing portfolio
You cannot be a writer without samples. If your client asks you for writing sample or portfolio, you better have one (more than one actually!).
I didn't. So I created one. I wrote a sample on a relevant topic and converted into a fancy portfolio document. 
However, for travel clients, this blog came in very handy. I could showcase my interest and convince them to hire me without having a word! That is exactly how I landed a regular column with a travel magazine. 
Yes, having a blog acts as a portfolio but again, be professional about it. Don't send them crazyaboutlove.wordpress.com.
Get a self-hosted website and own your business like a boss ass lady! You can use my guide to get started.
You can also create a portfolio by guest posting on sites – here are two relevant posts to help you out
Write and get paid instantly: 25 websites to get paid to write online
Get paid to write: 21 blogging sites that pay $150+
#5 Started networking like CRAZY
Networking is the foundation of freelance writing in India.
Create optimized social media accounts. Add a bunch of your ideal clients and start making conversations.
Remember, what CCD taught us  – a lot can happen over a cup of coffee. In our case, an hour on social media
And hey, don't get onto every platform. Focus on 1-2 which are relevant and work the best for your niche. For example, if you are into fashion, Instagram can work wonders but maybe not LinkedIn.
I highly recommend you read this post on 10 ways to find freelance writing clients and how to use Facebook to land freelancing clients
Besides social media, you should also look for freelance writing job boards to land quick clients.
#6 Said NO to below LOC rates if you want to make freelance writing in India profitable
I know it is tough to hold your ground initially. If the client is negotiating, you tend to cave in
You don't have to. If you think the payment is fair, go right ahead BUT never feel exploited while accept any freelance writing gig.
You need to know what you are worth and set standards (for example, I will not accept any work which is below INR X per word or INR XXXX per post.
I know freelance writing in India can be tough, with all the clients wanting to pay pennies for Neil Patel like posts. But, do you have to accept less? No!
Do not accept anything which falls below the LOC, line of caution. Bad clients are expensive to work with. They destroy your confidence, reduce the time to engage with potential clients, pay you peanuts and badly impact your freelance writing career in India.
A lot of freelance writing clients will also ask you for free samples and run with work without paying a penny. Read this post to know how to deal with free samples in your writing business
If you found this post useful, please take some time and share it with your friends. I have a pre-written tweet for you
Are you struggling with freelance writing and not able to land high paying freelance writing jobs in India? Do you have questions about freelance content writing jobs from home in India? Let's talk about it in the comments section.
Start writing and land freelance content writing jobs from home in India